Game Description
Dungeon Hunter: Alliance is the first action RPG game for the PlayStation®3 system that immerses you in the heart of a unique multiplayer experience, local and online
Face the world of Gothicus and its hordes of creatures alone or in teams of up to 4 heroes. The main quest, side quests, and the innumerable items to collect offer hours of play in a superbly modeled gothic universe. Push evil back to the depths of hell and squash the destructive ambitions of a tyrannical Queen... who was once your beloved!
Such a level of production has been rarely achieved on PSN: graphics and special effects rivaling classic games (console), smooth animation even during multiplayer sessions, and a dark gothic ambiance that immerses you in the heart of the action.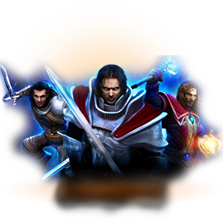 » Launch Trailer

Environments
A real quest to complete solo or with others, spanning over 30 levels with an immense world of dungeons, villages and forests to explore, including areas that are randomly generated. Gothicus will never cease to amaze you!

Multiplayer
Multiplayer
Dungeon Hunter 2 - Making of
Video 3
Video 4
Play locally or with your Friends, or team up online with players across the globe! The game difficulty will adapt to the number of players. Do your training and climb the ranks in the online global leaderboards.
Classes & Evolution

The mage relies on fairy magic to vanquish his foes. He can summon a magnetic field for protection or to repulse enemies.
Favorite attribute: energy


The warrior is the perfect class for fighting many opponents at the same time. He is strong and can wear the best armor.
Favorite attribute: strength


The Rogue is the best one on one killer. He is agile and can avoid attacks without using heavy armour.
Favorite attribute: dexterity
Dungeon Hunter Alliance has all the ingredients for a great role-playing game: choose your class, optimize your hero's development by assigning experience points to the attributes of your choice, and equip your hero with the best armor thanks to the items you collect throughout your adventure.
Gameplay
Dungeon Hunter Alliance provides a fun "hack & slash" gameplay adapted to your preferences: choose between classic controls (with a wireless controller) or innovative controls thanks to compatibility with the PlayStation®Move motion controller to recreate a "point & click" experience similar to PC games.